Are you an owner? Before you start, make sure you have subscribed to one of these offers:
1 month

Watch your videos on the device of your choice, wherever you are.

11.99€/month
1 year

Watch your videos on the device of your choice, wherever you are.

99€/year
Live Access

Access online immersion workshops with the greatest specialists and teachers of our time, Participate in a live chat with questions and answers in real time, Access in replay to archived events at any time, and a simultaneous translation into Spanish.

299€/year
Gaia "The world's largest video resource on consciousness expansion."
Discover films and documentaries on various themes such as spiritual growth, personal development, expanded consciousness or the paranormal and unexplained. You will also find videos of yoga and guided meditation to accompany your practice.
So you use Spliiit to share your Gaia account?
In this article, we will give you the best practices to adopt so that everything goes smoothly.
Important ❗ : The sharing of your Gaia account is then done thanks to the sharing of credentials, we advise you to use a dedicated password to it ! Indeed, by communicating your password, you give de facto access to the administration of your Gaia subscription. However, each user has an individual account, which means that the recommendations made by the algorithm are not altered.
For the owner :
You can share your Gaia account with up to 3 people.
To get started, go to manage profiles
Create the profile of your co-subscribers.
Once the profiles of your co-subscribers have been created, all you have to do is send them the login details for your account.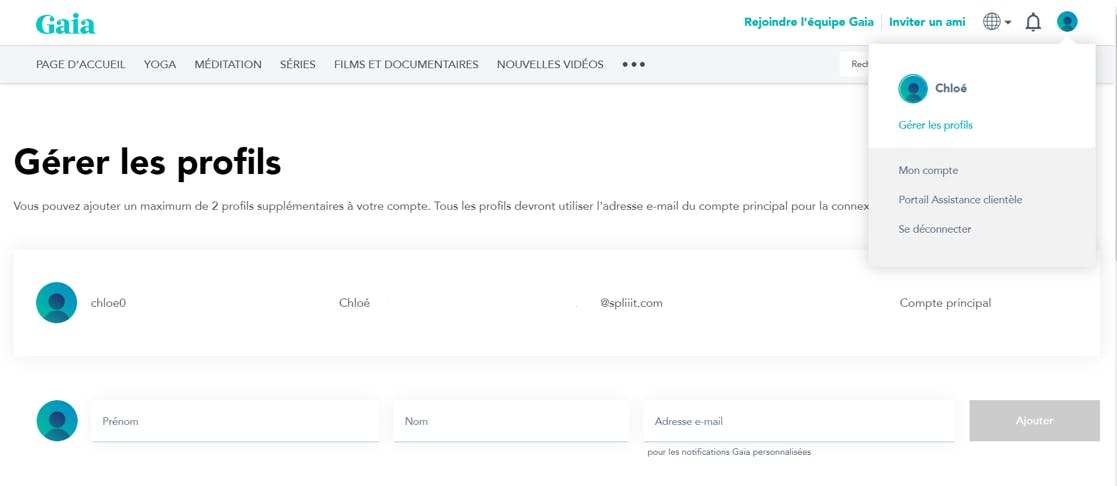 If you need to change the co-subscriber's profile, you will simply have to delete their profile in "manage profiles" and enter the new information.
Don't worry, your co-subscribers will not be able to change your password or access the invoices linked to your Gaia subscription.

All you have to do is share your login details with the group members. Your co-subscribers will log in with their credentials, but will be able to access their profile.

When you log in, Gaia will ask which profile you wish to use.
Your account is shared 🌻 !